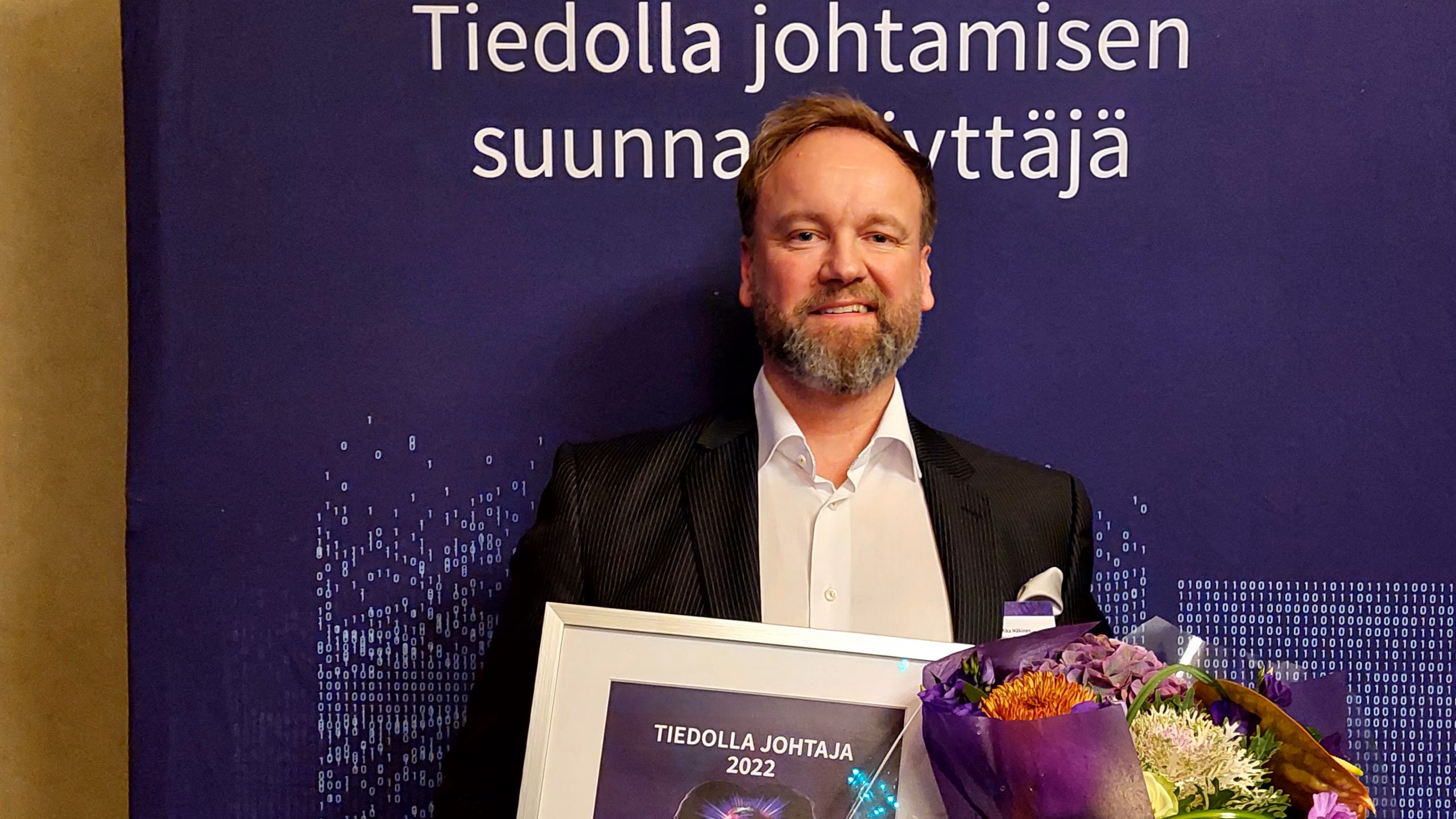 02.11.2022
Author Innolink
Noja Rahoitus Oy Knowledge-driven Leader for 2022, organisation category
Many congratulation to Noja Rajoitus for your selection as Organisation of the Year at the Knowledge-driven Leader 2022 Gala!!

In the grounds for selection, the jury stated that:
"The very life of the whole organisation is fuelled by up-to-date information. Experience-based customer data and business data are collected, combined and analysed extensively to support insight decision-making and business success. Information is also shared for the benefit of customers and partners. The organisation is steered by a passionate knowledge-driven leader within the financial sector, and the enthusiasm and commitment of personnel to knowledge-driven management is ensured already during the recruitment phase. The development of a knowledge-driven management culture is founded on the data strategy that has been set in place."
CEO Mika Mäkinen, Noja Rahoitus was among the winners at the Knowledge-driven Leader 2022 Gala:
How does it feel to be selected as Organisation of the Year?
We are all especially happy to be honoured in this way. Personally, it feels really good to win this award. It is also really good that all the staff at Noja Rahoitus were recognised for their good work and their commitment to effectively utilising data. For the whole organisation, this is a mark of recognition and confirmation of the good work done. It will also have a great impact on the future, giving us greater confidence that we have chosen the right strategy. Even there at the gala, some of our partners said that the right organisation had won – and they were sincerely happy for us. It is a great feeling when others also think that the award was well deserved.
The fact that a jury of eminent experts assessed our achievements from different perspectives and selected us as the winners is a massive achievement that we are particularly proud of.
It is great to see how Noja Rajoitus employees feel that this award is important and that it is for all of us. They really feel like a prize-winning team, and many have been keen to take photos with both the prize cheque and the award certificate!
Where have you drawn inspiration from in your development of knowledge-driven management?
I have been in finance business since the 90s. Even then, as a young man, the topic of allocation was very much in my thoughts. By this I mean how things can be done as effectively as possible, so as to avoid missing the target, and such that all steps forward are based on facts. I have always believed that data is the best basis for action, and that it produces the best results. This is the thinking I have been trying to implement in the organisations in which I have worked.
At Noja Rahoitus, we have used data to our advantage and made decisions that are based on hard facts. The experience gained and the results obtained have been strong drivers that have guided us towards a knowledge-driven way of doing things.
The results and efficiency achieved are certainly reflected in our business figures. That is something clear and concrete. When the growth curve shows an increase of 1100% over 5 years, and at the same time the EBITDA has been kept in check, this undeniably speaks of successes. A year and a half ago, our growth was accelerated by the prestigious venture capitalist MB Rahastot, which also makes extensive use of data in its decision-making. MB has been a huge source of inspiration and motivation: they have supported us and provided good tips for developing a model for knowledge-driven management.
What has been your greatest challenge in integrating knowledge-driven management into the company's daily activities?
All things that need to be changed, maintained or developed require repetition. One session in the meeting room is not enough to change the way things work, but rather the matter must be pondered and probed from many angles in order to root it into everyday life. Ensuring that data utilisation has been integrated into all levels of the organisation and into its very core has required not dozens but literally hundreds of repetitions. Of course, this all takes time. But if you have the patience to do this implementation work, and to do it systematically, it certainly pays off.
I once spent nine months in the United States observing how they do sales and marketing there. It was a good lesson to see how, in a market where competition is genuinely fierce, you can't just muddle through. You have to think things right through and make sure you've done your homework. Only then is there a genuine chance of success.
What has knowledge-driven management made possible for your organisation?
For us, the essence of all we do – however you look at it – is fact-based management. This brings along more than just high growth curves. I would like to use the following term for it: HIGHER-QUALITY THINKING. In other words, when the right facts is available and is used as the basis for discussion and planning, you get higher-quality end results. Personally, I believe that higher-quality thinking is one of the most powerful keys to competitiveness and success these days.
Through higher-quality thinking, we now better understand cause and effect relationships and have achieved, for example, a very high level of customer satisfaction. The abilities of our own staff have also developed enormously, and people are more satisfied and committed to their work when they see that decisions and policies are made based on facts.
On the other hand, the market is constantly changing and a lot is happening out there. When we act based on facts, we are able to react quickly to different situations and needs that arise in the change process, and we can also mitigate risks. Furthermore, we can create new demand-driven services or products once we understand what is happening on the market and when.
We have earned such a reputation and position in our field that people who have heard about and taken interest in our ways of working actively seek employment with us. We have a lot of experienced employees, and also a lot of future talents – many of whom are in their first job. Getting the right mix of diversity is our greatest asset and among the most important cornerstones of our success.
Our personnel value knowledge-driven management. This is also visible to our customers and partners, as well as to others who work with us – its impact is seen well beyond the actions of individual people.
What are your future goals for knowledge-driven management? What do you want to achieve?
We will definitely continue on our chosen path. We will continue to build our services around data and digital knowledge. We want to be a responsible pioneer, and we also want to assist our customers and partners by further developing our OmaNoja service, which offers them data that helps them too to make smarter business decisions.
Corporate responsibility is important to us – which means ensuring that data is correct and protected and taking good care of people and companies.
"Knowledge-driven management is something that everyone should invest in. It should be a shared objective for the whole organisation. Knowledge must be applied in the business's everyday activities – so that it has a real impact."
Mika Mäkinen
CEO
Noja Rahoitus Oy
mika.makinen@noja.fi
#tiedollajohtaja2022
On the Knowledge-driven Leader 2022 Gala webpage, you can also find interviews with Jatke's Mikko Kuusakoski, the winner of the individual category, and Outi Määttä from Gofore, winner of the initiative category.